AAUW Traverse City Area Branch
AAUW's mission:


"Empower and advance equity for women and girls."
—Events are in-person and virtual, following COVID-19 precautions—
November Branch Meeting
Tuesday, November 9, 2021, 5:15 pm
Note this is delayed until the SECOND Tuesday of the month
due to election day. Be sure to vote on November 2!

The Janis Room at the Dennos Museum at NMC
will open at 5:15 before the 5:30 start of the program
for in-person attendees.
Join at 5:15 on Zoom to chat with other members.
Speaker: Sarah Eichberger, MPH, RDN
of MSU Extension's TC office.
Sarah is a public health nutritionist.
Join us to learn what that means, how she arrived at this career,
and what her work entails.

Join us and welcome her!
Questions for the speaker may be submitted in advance to aauwtc@gmail.com
This will be a hybrid meeting.
Members who want to meet in person can come to the Janis Room of the Dennos Museum at NMC where our speaker will be. We highly recommend that you be vaccinated. You can park in the museum's gated lot and will be given the exit code.

NMC (including the museum) has an indoor mask mandate, thus no food will be permitted.

For those who prefer to attend virtually (and for members of the public) there will be a Zoom option. Click this link to register for our meeting. You will get the Zoom link once you register and a reminder the day of the event.
For those unfamiliar with Zoom, there will be help available to you


or you can call in on the phone number provided when you register.
Join us in friendship and in the mission of
working for equity for women and girls.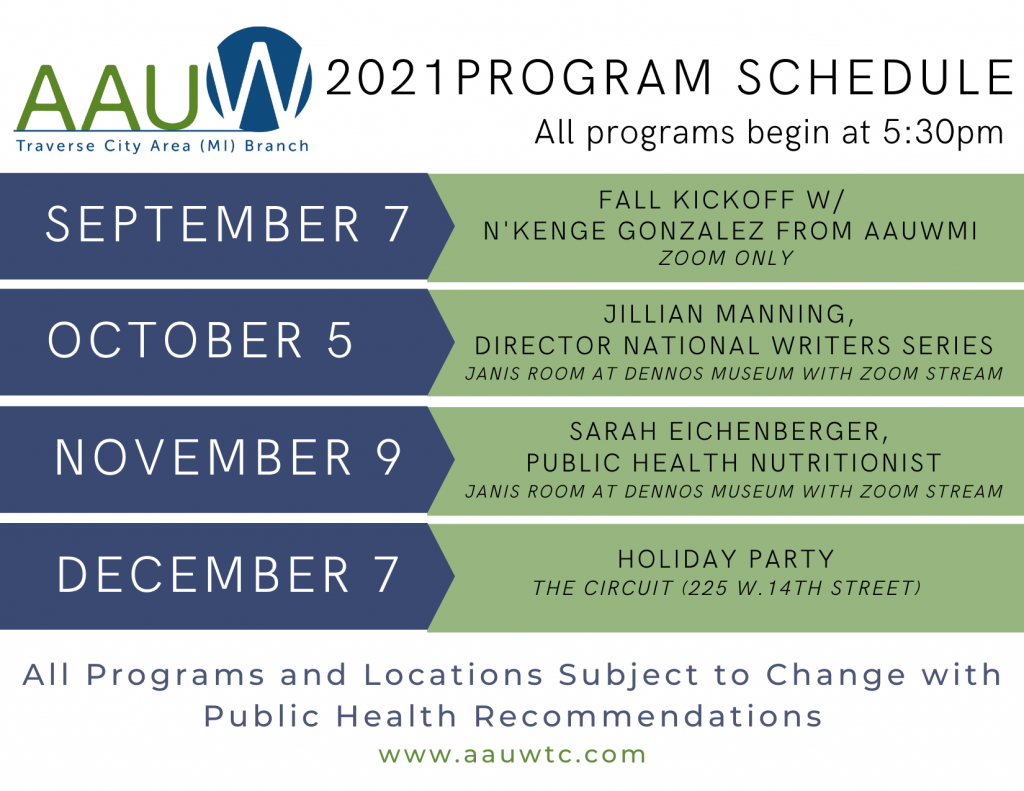 The Traverse City Area Branch of AAUW was chartered in 1954.
Various community projects, monthly Branch meeting, congenial interest groups, networking with other groups,
and issues and topics of interest are all a part of the
many and diverse activities offered by the Branch.
American Association of University Women (AAUW) is a nationwide network of more than 170,000 members and supporters, 1,000 branches,
and 800 college/university institution partners.
AAUW-TC is a 501(c)(3) Public Charity Organization