AAUW Traverse City Area Branch
AAUW's mission:


"Empower and advance equity for women and girls."
—All events are virtual, following COVID-19 precautions—
Tuesday February 2nd 5:00pm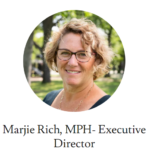 This month AAUWTC will welcome Marjie Rich of Generations Ahead. The mission of Generations Ahead is to "empower young parents to build positive relationships, strengthen family resilience, and raise healthy children ". Marjie will share both stories and current local statistics with us. How is teen pregnancy affecting education and employment? How might AAUW's mission of equity for girls and women intersect with that of Generations Ahead?
Photo Courtesy of https://generationsahead.org/
Register by following this link
For those unfamiliar with Zoom, there will be help available to you or you can call in on the phone number provided when you register.
Join us in friendship and in the mission of
working for equity for women and girls.
The Traverse City Area Branch of AAUW was chartered in 1954.
Various community projects, monthly Branch meeting, congenial interest groups, networking with other groups,
and issues and topics of interest are all a part of the
many and diverse activities offered by the Branch.
American Association of University Women (AAUW) is a nationwide network of more than 170,000 members and supporters, 1,000 branches,
and 800 college/university institution partners.
AAUW-TC is a 501(c)(3) Public Charity Organization