AAUW Traverse City Area Branch
AAUW's mission:


"Empower and advance equity for women and girls."
All Events are Virtual, Following COVID-19 Precautions
November Branch Meeting
Tuesday, November 10, 5–6:30 pm
Virtually on Zoom
5–5:30 pm: Zoom Social Time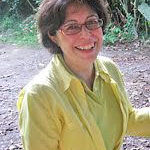 5:30–6 pm: Speaker: Education & Outreach Coordinator for NMC's Great Lakes Water Studies Institute, Constanza Hazelwood will join us to discuss hot topics in freshwater and how students are learning about this here and across the globe.

6–6:30 pm: Q&A. Ask your questions and brainstorm ideas.
For those unfamiliar with Zoom, there will be help available to you or you can just call in on the phone number provided when you register.
Please register with Leanne for this free Zoom meeting by clicking the link below. Registration required to attend due to security concerns. 
Dues Are Due!
It's dues time for AAUW! Dues for the year from July 1, 2020, to June 30, 2021, are due by June 30, 2020. Dues are $82 per year for most of us except those in special categories, such as dual-branch members, life members, and college and university liaisons. If you have a question, contact Susan Hughes (see your directory). There are three ways to pay your dues:
Download the renewal form here. Fill out the form and send it with your check, made out to AAUW-TC and mail both to the address on the form.
Write a check to AAUW-TC and mail it to: AAUW-TC, P.O. Box 1142, Traverse City, MI 49685
Pay through the Association by going to its website (aauw.org ).
Contact Finance Officer regarding special dues categories, i.e., dual membership, life membership, student affiliate: 574-276-8923, emoore9706@gmail.com Send this form with your check (payable to AAUW-TC Branch) to: Elizabeth Moore, AAUW-TC, P.O. Box 1142, Traverse City, MI 49685
Join us in friendship and in the mission of working for equity for women and girls.
AAUW-TC is a 501(c)(3) Public Charity Serving Antrim, Benzie, Grand Traverse, and Leelanau counties in Michigan
The Traverse City Area Branch of AAUW was chartered in 1954.
Various community projects, monthly Branch meeting, congenial interest groups, networking with other groups,
and issues and topics of interest are all a part of the
many and diverse activities offered by the Branch.
American Association of University Women (AAUW) is a nationwide network of more than 170,000 members and supporters, 1,000 branches,
and 800 college/university institution partners.
Events canceled if TCAPS cancels school for weather reasons the day of the event
or in anticipation of bad weather the next day.